For those of you who missed the release of V15.5, Update 6 it comes with some great new features. Amongst others, it includes a WebRTC softphone within the web client, smarter smartphone apps, SSL Security updates and more. Upgrading to the latest service pack is critical and we highly recommend you do so as soon as possible.
Version 15.0 and 15.5 Users
To make the upgrade process easy for you we have prepared some tools which will automatically upgrade your PBX to Update 6 through all service packs. These tools can be used by all customers who are already on version 15.0 and 15.5 regardless if you have maintenance or not.
Windows
Logon to the installation where 3CX is installed, download this tool, extract it and use right click to run "3CX WinUpdater.exe" as the Administrator.

Depending on how many service packs need to be installed, services will start and stop multiple times. You will see the below window – do not close it.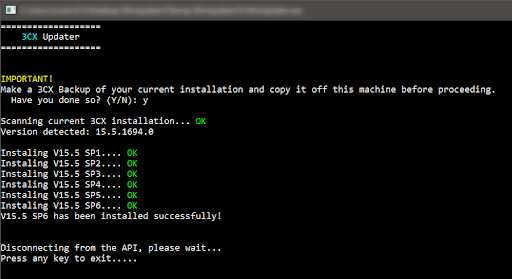 Linux
Connect to the installation where 3CX is installed via SSH and switch into 'root' (you may use 'sudo su' to do so). Enter the following commands to upgrade:
apt-get update
apt-get upgrade
In case the installation is below v15.5 SP1 the commands must be executed twice as newer updates are located in a different repository.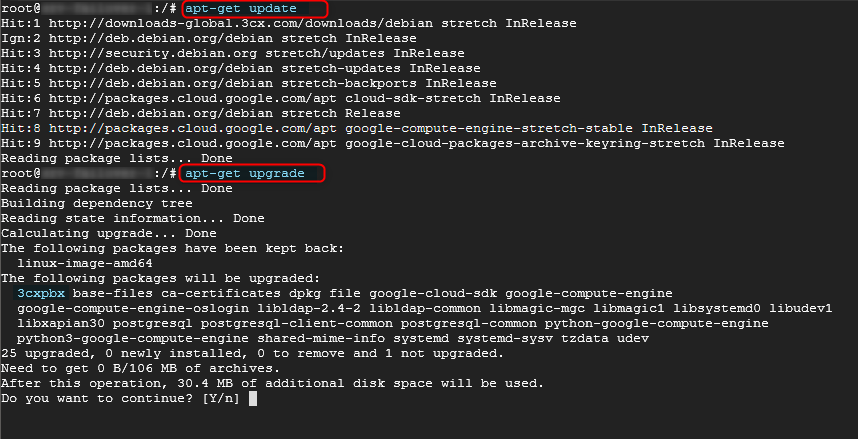 Version 14 and below
With Active Maintenance
Follow the normal upgrade path to reach version 15.5 Update 6. The latest installer of 3CX is already on update 6 and no further upgrades are required once it's installed. More information can be found here.
Expired Maintenance
Contact the 3CX Customer Service team in order to learn more about your upgrade options: https://www.3cx.com/contact-form/